When it comes to buying yourself a metal garage, grading on your property should be something you consider first. Will the building be installed on concrete, asphalt, or level ground?
Calling 811 and having them come out to mark where all of your utility and water lines are can be valuable information. Most states and counties do not charge for this service. Many counties, cities, and municipalities also require building permits and some type of engineered drawings. Also, Keep in mind customers are typically responsible for all permitting fees.
What size will the building be, how many doors would you like, and do you want windows? Other considerations include the style of roof and siding, horizontal or vertical. Hopefully, this read will help to ease the stress of figuring out many of the details.
Getting down to the raw soil is just the beginning for the grading stage of site preparation. Loose soil and wetlands need removal and stabilization before a metal building goes into place. Topsoil must be removed as well, along with many subsoils, until the grading contractor reaches a compacted and stable soil. The same process will also produce a leveled surface ready for foundation installation.
Leveling and Grading
Getting down to the raw soil is just the beginning for the grading stage of site preparation. Loose soil and wetlands need removal and stabilization before a metal building goes into place. Topsoil must be removed as well, along with many subsoils, until the grading contractor reaches a compacted and stable soil. The same process will also produce a leveled surface ready for foundation installation.
Soil Compaction
Some soils are stable enough to simply need grading and leveling. Other sites with loose or wet soil may require compaction services from a soil engineer. Soil compaction requires ramming equipment to evenly build a stable base of compacted soil. Since even small metal buildings need a reliable foundation to prevent settling and shifting, you can't install a structure without proper compaction.
Pouring a Foundation
Open carports installed over the bare ground may only need excavation and poured concrete around the posts supporting the roof. For larger and enclosed metal buildings, a concrete foundation is usually poured to create a durable floor and to prevent the structure from settling under its own  weight. A slab foundation distributes the weight of the building out over a much larger area than post anchors. Concrete foundations must also be poured to a specific depth based on how deep frost forms in the soil in your area. Don't forget to estimate the costs of any foundations required for your metal building when budgeting for the installation and site preparation.
How to Proceed
With this information, you should know how to proceed with preparing your site for a metal building. Reach out for guidance from your local building authorities before making any plans for permitting and approvals. Don't forget to contact the local utility companies as well if you're interested in running power or plumbing to your new metal building.
Engineered Drawings
All drawing requirements are set by local jurisdictions. Some companies offer several types of Engineered Drawing Options to choose from depending on your needs.
Generic structural design drawings.
These are typically free and you can get them sent to you via email in PDF by request.   These are considered standard drawings and used when required by local building departments. Keep in mind most companies will only make them available after a down payment is made.
Next, Generic Wet Sealed Drawings:
These drawings are stamped and signed by the Engineer and will generally be mailed to the customer after the order has been placed. These drawings are usually satisfactory If a state seal is required on every page by your local building department. Completion is within a week or two
Lastly, Site-Specific Drawings: 
These drawings will include the customer's name, location, local wind/snow loads, and exact building dimensions with door and window placements.  These may take a few weeks to get and generally cost between $1700 and $2500 so keep in mind when budgeting for you building
Pre-engineered Galvanized Steel Framing Structures
Regular Roof
The regular roof style metal roof is the original design and most economical option available. It's bow or truss is created by bending the material to create it's unique shape with roofing panels that run from front to back. 
Boxed Eave Roof
The boxed eave roof style metal garage has a traditional A-frame style look and roofing panels that run from front to back. This allows us to reduce cost while maintaining a great appearance.
Vertical Roof
The vertical roof style metal garage is the strongest roof style available. The roofing panels are laid in a vertical orientation starting from the peak and ending at the eaves/sides.
The vertical roof structure requires an underlayment of 18 gauge hat-channel which gives the metal building added rigidity and strength. It is highly recommended any metal buildings longer than 31 feet be upgraded to a vertical roof style to avoid any potential leaks at the seams.
Why should you consider a vertical roof versus a horizontal roof in a metal building?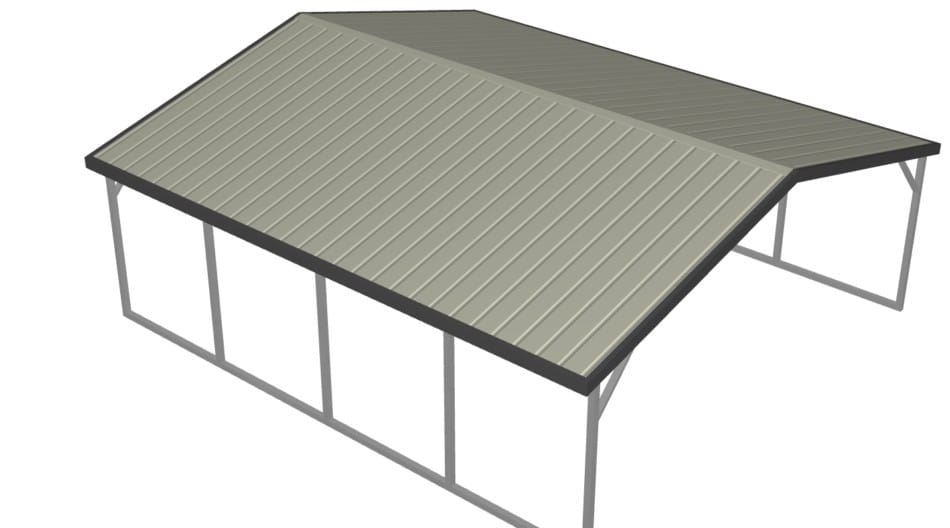 The maximum length of a horizontal panel in most areas is 31′. Any metal building over 31′ in those areas will have two panels seamed together. This does have the possibility of leaking in the future. Also, the ridges of the steel panels in a horizontal roof run parallel to the sides and ridge of the garage. Water, snow, ice, etc., will drain to the front and back of the building, towards the door openings. If the building is perfectly level, water tends to remain on the horizontal roof. On a vertical roof, the ridges of the steel panels run from the top of the garage to the sides. This roof configuration displaces water, snow, ice, etc., much more efficiently, and water will not pond on the roof. You will typically receive a 20 Year Limited Rust Thru Warranty On All Lengths Of Vertical Roof Style Metal Carports & Metal Buildings, but on Horizontal Roofs Only Up To 31′ long are covered under the warranty.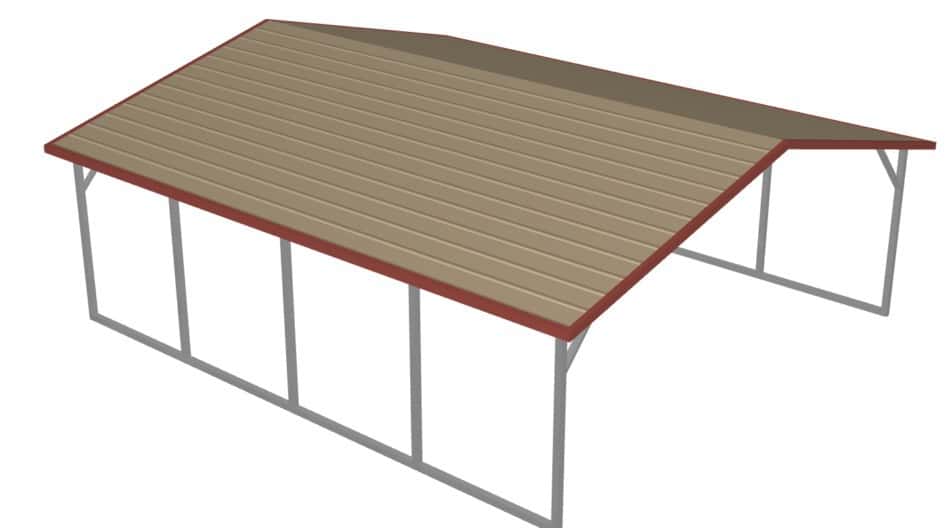 Preparing for Installation
Mark any utility lines running underneath your planned installation site. I always recommend knowing  the exact location of any water, gas, electric, or sewage lines. Please call 811 to have them come out and mark the lines free of charge.
Be sure to prepare a level lot surface; move dirt  if necessary to create a level installation surface area. Sites must not be more than three inches off level to avoid any additional fees.
Create Good Site Drainage
Making the right choices when choosing a location for a metal building goes a long way in preventing damage to it. Look for a raised and level location that has smooth slopes leading away from it on all four sides. Placing your metal building up against an excavated hillside or at the bottom of a slope increases the chances of flooding and rust. If you don't have a spot on your property that meets all of these criteria naturally, pay for a grading service to create a stable and raised area for installing the metal building. A little extra time spent preparing for installation reduces maintenance and repairs significantly later on.

Pouring the Pad
When pouring concrete, make sure the length of the pad is one foot shorter than the length of the unit ordered. We recommend six inches wider and six inches shorter to avoid concrete bursting when inserting the cement anchors. For example for a building measuring 24′ x 31′, the concrete pad should measure 24'6 x 30'6. Also, the concrete will take anywhere from a few days to a few weeks to fully cure. It's best not to build or even walk on the concrete pad until it cures, even if it seems hard and dry to the touch. Curing is a chemical reaction that allows the concrete to reach its full strength by forming internal crystals, so installing a metal building before curing completes will lead to a pad that is more likely to split, crack, or spall.
Remove any Obstacles
Clear any and all obstacles in and around the installation area such as vehicles, and debris to avoid any build over fees. Additional labor fees are definitely something you're going to want to avoid.  Additionally make sure that the installation crew has the needed space to fasten any wall paneling, end wall framing, and trim. A minimum of 36" all around the building is required.  
Site preparation is crucial to ensuring a smooth installation. Also, any safety requirements must be disclosed to the ditrbutor/ manufacturer before purchase of unit. Such requirements must be noted on purchase order before it is submitted.
Options for Consideration
Style: Carport, Garage Barn, Combo  or a Lean-To
Installation Surface: Gravel, Dirt, Asphalt or Concrete
Roof: Regular, Boxed Eave or Vertical
Size: Width, Length, And Height
Sides:  Fully enclosed or not
Ends: Gables
Panels:  Horizontal or Vertical
Frame Guage: 12 Guage or 14 Guage
Engineered Wind/Snow Rating: Yes or no
Screws: Colored or Standard
Insulation: Fiberglass or Reflective Double Bubble
Placements: Doors, Windows and Frameouts
Colors
Financing Options
Anchoring Info
Asphalt Anchors
Used in asphalt installations only and may or may not be included with the building. They have 4 fins that when driven into the ground hold the anchor in keeping the building secure during high wind conditions.
Concrete Anchors
Sometimes referred to as wedge anchors, contractors drill into the concrete and insert the anchor to fasten the building very securely to the concrete pad.
Mobile Home Anchors
Used to secure the building in-ground installations only. They are used primarily on certified buildings. They are double helical in design. They can be installed as an additional option onto buildings in which they are not included.
Why pre-engineered designs
Many businesses and homeowners are drawn to metal buildings because their pre-engineered designs take a lot of the work out of planning a new structure. However, you may still need to jump through the usual hoops of getting permits and inspections even if you use a pre-engineered structure. Make sure you check on all the applicable laws and regulations regarding your new metal building before beginning any of the construction work.
Size and Use Matters
Some areas and states allow for a permit-free installation if you're just trying to add a very small storage shed. Some regulations set the maximum size as 10 feet by 10 feet, others go by the total square footage for the finished building. Most carports, even unenclosed spaces, will exceed this minimal number easily. Most metal structures will qualify for requiring both inspections and permits, but not in areas that have no established building codes or permit requirements. The only way to know what applies to your property is to check with local building authorities and code enforcement offices.
Applying for a Residential Permit
Homeowners should find it relatively easy to apply for a residential permit for adding an accessory building like a garage. Whether you want a concrete slab or not, the process involves a few inspections and a little paperwork on your behalf. Some areas require homeowners to submit detailed plans of their site and the proposed building in order to secure a permit. Make sure to apply for the right permits before ordering a building or making arrangements for installation since applying for them later costs far more and could require the replacement of the building.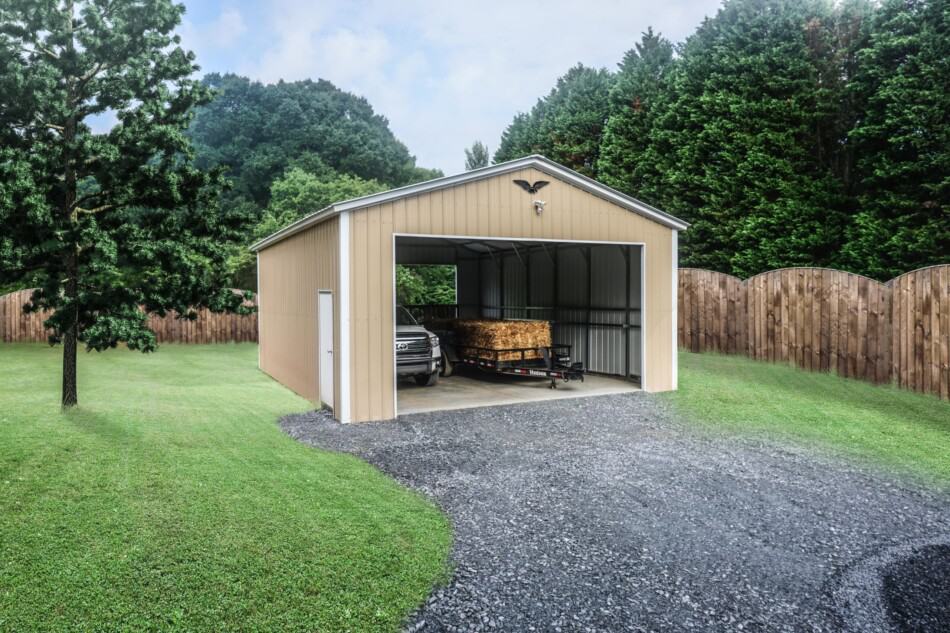 Building Codes
Even if you don't plan to use your metal building as more than just a storage shed or carport, you may need to meet a wide range of building codes with your new addition. Some areas apply all the relevant residential building codes to all metal buildings, even if you don't plan to use them as housing. You may need to make some modifications to your installation if this is the case in your area. Most areas will have specific reduced code requirements for accessory buildings like garages and barns, so make sure you're filling out the right paperwork when applying for a permit.
Separate Permit for the Concrete Slab
Your local code enforcement officer may require a separate inspection and permit application for the concrete slab if you choose to pour one. This is especially likely if your installation requires any grading and excavation to create sufficient space for the building. If you're hiring a local contractor to handle the concrete work, they can likely secure the permit and submit the right paperwork on your behalf. Discuss the requirements for permitting with your concrete contractor prior to paying a deposit or ordering your metal building kit.
Collecting the Information You Need for a Per
The permit process requires a little bit more than just filling out the right forms. Most building authorities also require you to submit clear drawings and plans for your construction project before they will plan an inspection visit or approve your permits. When you choose a pre-engineered metal building, you can use the drawings provided by the manufacturer to fill out your documentation for the permit application. If drawings are needed for the site preparation and grading permits as well, you may need to hire a surveying company before you can create accurate measurements to prove you're meeting setback requirements
Local Building Authority
Each county, city, and state sets its own unique requirements for metal buildings. For example, some counties require permits for all kinds of metal buildings, including proof that they're located far enough away from property line setbacks. Your county may have a completely different set of requirements and expectations, so check with your local building authority or code enforcement officer. If you're not sure where to start, your county's property tax office should know where to direct you for questions about local codes and other requirements.
With the right preparation and planning, no amount of permits and inspections can prevent you from building the metal building you need. Be prepared to make customizations and to adjust your designs as you find out more about local requirements.
54x50x12/9 Garage with 12×20 Front Porch/ Back Lean-To
This is a 54x50x12/9 Garage with 12×20 Front Porch and a 12×50 Back Lean-To. This structure includes a Patriot Red Vertical Style Roof, Quaker Gray Vertical Sides/Ends, Patriot Red Wainscot on the Sides/Ends, 12-ft Interior Leg Height, (2) 10×10 Garage Doors, (1) Walk-in Door, (2) 30″x36″ Windows, and Concrete Anchors!
The vertical roof and sides allow the water, snow, and leaves to run off to the side of the building, preventing rust and wear.
Whether you're looking for a garage for your car, truck, motor home, or tractor, there are a variety of styles and customization options