Metal buildings are cheap and easy to construct. Depending on the size of the building and the number of people working on the project, you might be able to erect the building in just a matter of days. However, the length of time also depends on other features that might be included in the project. 
A small metal building may only take a day to erect. However, the concrete foundation for your building may need to be poured several days to weeks in advance. Larger metal buildings may need up to a week to construct, depending on how many people are available to work on the project. 
Even though erecting a metal building can be done quickly, here are several other factors that you have to keep in mind for scheduling your build. 
What Does It Take to Construct a Metal Building? 
Consider Before Building
While it may not take more than a couple of days to build a metal building, there are several other components you have to consider before erecting your structure. Make sure to call to have your utilities marked before digging or pouring a concrete foundation. You may even need to route or trench utilities to your building. 
Pouring A Concrete Pad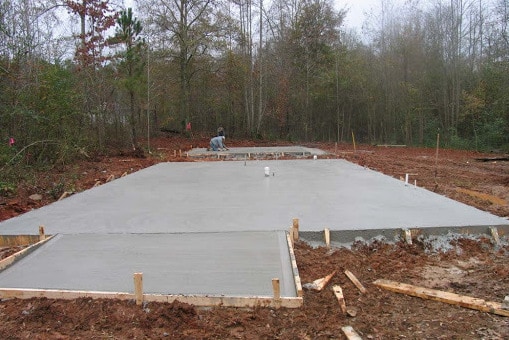 The longest part of constructing a metal building may be pouring and setting a concrete pad for the structure to be erected. Bobvila.com says that the average length of time to fully cure a concrete slab is about 28 days. The slab might reach a majority of its strength in the first week or so, which may allow you to start constructing before the slab is completely cured. 
After the slab is set, the metal building can quickly be erected. A simple, small building can be constructed in just 48 hours. However, this is contingent on all the materials and supplies being delivered on-site and ready to go as soon as the crew starts working. 
Before And After Construction
There are several other factors before and after erecting the structure to consider. You may need to design the structure, which can take several weeks. The plans for the structure, or blueprints, may need to be submitted to the city for review. The city or plan reviewer may ask you to make corrections or changes before approving and releasing the permit for construction. 
Depending on your level of risk aversion, you may wait until after the permit is approved before ordering materials. Ordering materials and getting them delivered may take several weeks to months. The contractor may need some time between pulling the permit and staging the equipment or scheduling the team. 
After the building is erect, other finish material may take several days to weeks longer to the building. While the metal structure may only take a couple of days, installing doors, windows, HVAC, electrical, plumbing, and other finishes may take longer. You may choose to install these components yourself if allowed by the city. Otherwise, the other contractors may need to wait until the structure is erected before they can begin work. 
What Can Delay Building a Metal Structure? 
Inclement Or Extreme Weather
There are several reasons why it may take many weeks to months to build a simple metal structure. The two most common reasons are weather delays and  plans change. Construction delays occur with or without notice.   .
The concrete slab that your metal building is erected on normally has to be built in ideal conditions. It's possible that if you planned to pour concrete in a two-day window, it'll rain. Weather that is too cold may cause the slab to set or cure very slowly. Concrete may not be poured when it's too rainy or humid. 
Even if the weather in your area is ideal, weather in other parts of the country can delay the shipping of materials. If your metal for your building is coming from a foreign country, or even across the country, hurricanes, tropical storms, snowstorms, flooding, or fires, can cause the shipments from reaching the destinations in time.
As every builder knows, inclement or extreme weather often delays construction, throwing off a carefully planned building schedule.
Manpower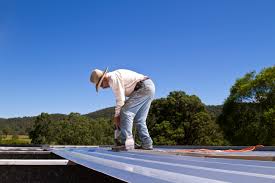 Limitations in manpower can also delay the process. If your contractor is busy, short-staffed, or impacted by issues with unions or OSHA requirements, the contractor may not be able to start or complete your project. The larger the crew, the less time it takes to erect a metal building.
Simpler structures go up faster. Highly customized designs will require more time to erect. A basic rectangular-shaped building with a low gable roof and steel panel exterior erects the fastest.
 Like anything else, there is a learning curve in metal building construction. The first project will take a little longer, as the crew learns the process. Subsequent building projects pick up speed, as the crew gains experience with pre-engineered metal buildings.
Building Yourself With a Kit
If you are building your structure yourself, you have to consider your own schedule limitations. For example, you may hope to have the structure completed in just a weekend, but if the project takes longer than you anticipated, you may have to wait until the next weekend to finish due to work or family commitments. 
Considering Time, Delays And Limitations
If you are in a hurry to build your metal building, consider prefabricated metal building kits. These kits may be available with predesigned plans that can easily be approved by your city. The kits can also ship quickly, allowing yourself or your contractor to get started quickly. With the exterior structure erected, the interior finishes can be incorporated at a later date. 
Depending on the materials, prep work, and type of structure, it can take anywhere from a day to a few weeks to build a metal garage. But, a little bit of planning will help it go smoothly from day one!
Things that aren't in your plans can sometimes happen during construction because it is always done in a sequential manner.
If this occurs, the whole project will be delayed causing your other contractors to reschedule.
Scheduling
You can also be delayed if one of your subcontractors fails to arrive on schedule, work takes longer than expected, or a supply shipment is delayed. Supply shipments have been a serious issue during the current pandemic.  
Additionally, there are delays that may occur when certain tasks must be done before other tasks can be completed.
You may have a mason schedule for laying bricks for your structure, but you can't start laying bricks until the foundation is poured.
To prevent delays, you must prepare ahead of time.
To avoid obstacles, you must know what issues or hold-ups may occur far in advance of your project.