With a little tender love and care, even a shabby old shed can outlive its recommended lifespan. The best part about owning a metal building is its tremendous durability and low maintenance needs. By keeping up with your building's general performance and appearance, even older metal buildings can remain functional.
To keep a building's operations running smoothly and efficiently, regularly clean the building and manage any repairs and renovations quickly. Further, be sure to insulate the building to avoid water damage. Following these tips will help prevent hefty maintenance fees and avoidable repairs.
Maintenance takes on a whole new meaning when you need to maintain your own building. Continue reading to learn more about the types of maintenance that metal buildings need and even some tips for taking care of your metal structure.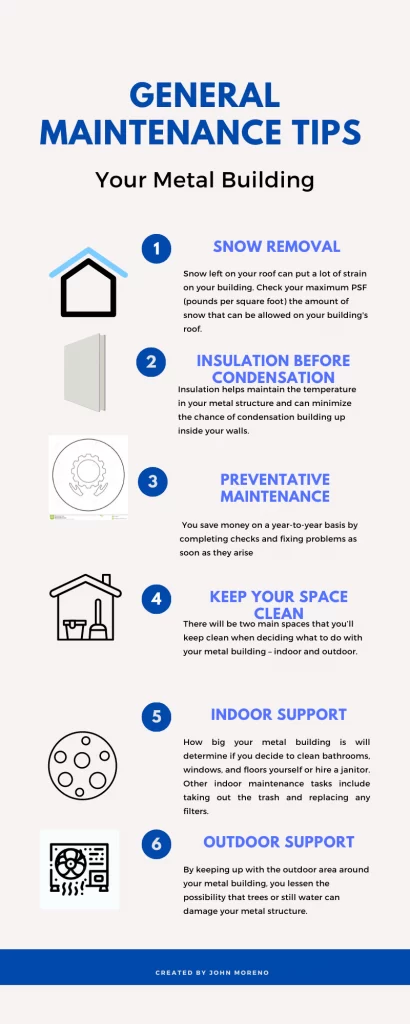 What Kind of Maintenance is Required for Metal Buildings?
Different types of buildings require various forms of upkeep. By keeping this list handy, you can prepare for standard building maintenance. You might even be able to perform some of it yourself without needing to hire help.
Here is a list of general upkeep that your building will need at some point in time:
House Cleaning– Whether you live in your metal building or have a business, this includes basic cleaning tasks like cleaning bathrooms, washing windows, and mopping floors. 
Specific Maintenance Repairs- Usually, certified technicians fit in this category, which includes HVAC, electrical, plumbing, and even lawn care. If you need your equipment inspected, repaired, or replaced, hiring a tech will help keep costs down in the long run.
If you work in a metal building, a maintenance supervisor could help manage your maintenance team while you can focus on other areas. 
The following chart gives details about the types of maintenance, when they should be done, and why they are all necessary:
| | | |
| --- | --- | --- |
| When? | Type of Maintenance? | Why? |
| Before Install | Hiring Contractors or Manual Laborers | Depending on your metal building's size, you might benefit from hiring help to unload and set up your metal building. |
| During Install | Check Your Equipment and Materials | Nothing is worse than getting ready to build and finding out that your truss is bent. Be sure to check your materials and equipment. |
| While Insulating | Check the Quality of Your Insulation | The number one enemy of metal buildings is water. If insulation is damaged or weak, it can cause moisture to build up in your metal structure. |
| Bi-annual Maintenance Check-Ups | Create a List and Keep a Maintenance Record | At least twice a year, it's beneficial to inspect your metal building. Check-ups will give you an idea of what you need to replace and when. |
Keep Your Space Clean
There will be two main spaces that you'll keep clean when deciding what to do with your metal building – indoor and outdoor.
Indoor Support- How big your metal building is will determine if you decide to clean bathrooms, windows, and floors yourself or hire a janitor. Other indoor maintenance tasks include taking out the trash and replacing any filters.
Outdoor Support- By keeping up with the outdoor area around your metal building, you lessen the possibility that trees or still water can damage your metal structure.
Handle Minor Renovations and Repairs Immediately
Imagine a small leak in your faucet. In the beginning, it doesn't seem like a big deal, but over time it starts to erode your sink, your pipe bursts, and suddenly, you have to replace your plumbing system.
Although not all repairs are so drastic, the chances that your small repair will become a larger issue is pretty high. Some examples of small repairs include holes or scratches that are on the exterior walls. Filling small gaps or scratches keep more significant problems from developing and can prevent water damage.
Snow Removal 
Snow left on your roof can put a lot of strain on your building. Check your maximum PSF (pounds per square foot) the amount of snow that can be allowed on your building's roof.
If you think your roof may have too much snow on it, act swiftly to make plans for its removal. using a professional is always recommended.
It's imperative to avoid the danger of exceeding the permitted amount.  Keep in mind the snow's density and the amount of snow that falls with each snowfall.
When the snow melts and is replaced by fresh powder or rain, try to prevent compounded snowfalls.  The rain will be soaked up by the snow, preventing it from draining correctly. Rain contributes greatly to the weight of the snow.
Insulation Before Condensation
If you live in a state that rains frequently or is humid at any point in the year, insulation will be your new best friend. Insulation helps maintain the temperature in your metal structure and can minimize the chance of condensation building up inside your walls.
By properly insulating your metal building, you reduce the risk of rust. Another way to reduce the risk of water damage to your metal building is by adding gutters. Gutters can redirect sitting water to specified locations away from your building.
Costs are kept low by doing preventative maintenance.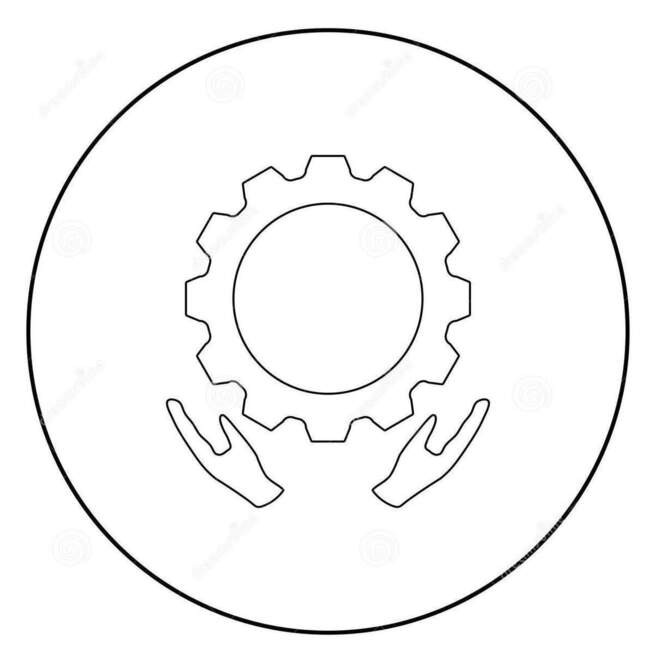 As previously said, preventative maintenance delivers the best results. You save money on a year-to-year basis by completing checks and fixing problems as soon as they arise. Problems do not resolve themselves. It's never a good idea to ignore them or putting off making the necessary repairs
To Conclude
Your metal structure will require general upkeep and specific repairs that may need a certified technician. Remember, you'll have specific maintenance before, during, and after the construction of your metal building.
When building your maintenance list, you must cover both indoor and outdoor maintenance. Outdoor support includes gutter and yard work, while indoor support includes general maintenance supervision of the facility. 
Last but not least, taking care of minor issues keeps away big problems, and proper insulation keeps your building safe from possible water damage.