A carport is a fantastic addition to any property. While cheap to make, they offer a great place to store your vehicle, have a garden, or a covered patio. They keep everything out of harsh weather conditions while presenting a style all your own, provided you have a carport big enough for all your stuff.
The right-sized carport is one that comfortably covers what you want under it. A single car requires a smaller storage solution than two trucks. You must also have enough space for everything you plan to do inside the structure as well.
While choosing carport size seems daunting, it is a very simple process. It is a simple examination of your needs and applying some futureproofing. 
Carport Sizes, Styles, and Materials
An alternative to garages, carports come in many different frame styles, sizes, and construction materials. You can have these structures built to your style and function. They are cheap to make so you can get very creative with them.
However, many factors may limit your carport options ranging from the practical need to store your stuff, the weather, and local building regulations. Fortunately, most builders offer enough options to accommodate everyone and will help you decide on the right carport features for your needs.
These carport construction options are often split according to a few specified parameters that go into the build. These parameters are:
Construction material – Carport frames come in polyethylene, polyester, wood, steel, or aluminum. 
Frame design – Carports are normally framing without walls, but they can also be fully or partially enclosed structures. You can even choose a solid roof or a flexible canopy cover. 
Size – Some carports are big enough for a single car, but you can have one to store every vehicle you have and then some. 
Other considerations that may go into your carport decision are any additional features you may want such as:
Solar panels
Automatic alarm systems
Surveillance cameras
Security locks
Most of these options are straightforward. They are mostly up to personal preference or needed to withstand the local environment. However, carport size can offer a challenge if you are not ready for it. 
Choosing the Right Carport Size
The problem with carport size comes from the nature of carports. You can only build them once. If your structure is too small you must tear it down and start over. If it is too big, you will have a lot of wasted space and wasted a lot of money to get it.
The right carport size will provide the most efficient and cost-effective protection for your vehicle possible. The solution to the puzzle is understanding your needs and the carport sizes available to you. 
Luckily, carport size options tend to be universal to all manufacturers. You can get them in single, double, or triple vehicle formats, or you can ask for an extra-wide or commercial direct from the factory. Therefore, your task is to decide which of these carport categories you need. 
What Vehicles Do You Have?
Your vehicles are the biggest factors in choosing a carport size. 
The Type and Height of Vehicles
Your vehicles must fit inside the structure. Therefore, your carport's clearance height must be higher than the height of your tallest vehicle. A standard structure can easily handle a regular car or small truck but may have issues with larger vehicles such as RVs and trailers. You may also want a wider than normal carport if you need more space to maneuver.  If you have an RV you can get an RV cover basically a taller carport with double legs.  
The Number of Cars
You also need a carport that is wide enough to fit everything you want under it. You want enough space for the vehicles and anyone who may pass between them. You also want enough room to open the doors. 
Your Intended Use for the Carport
Vehicles are not the only things you can store under a carport. You can use them to store any type of vehicle, lawn equipment, or you can use the space like a covered patio. Each application has its size restrictions, and you need a structure that can accommodate them. 
The Available Space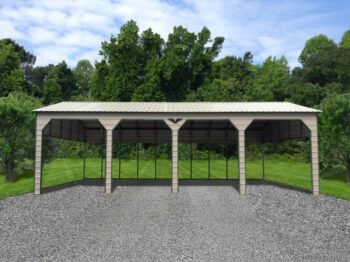 Many builders rarely talk about this, but your location largely dictates the carport sizes you can have. If you have a lot of space to work with, you can choose according to your preferences above. Otherwise, you must choose among the sizes that fit. 
Your Future Plans
As carports are typically built to be once structures, you want to get one that will fit anything and everything you plan on putting in them. If you are considering adding extra vehicles to your family, you must include them in your size calculations now, or you will end up with the additional expense that comes with getting a new carport.  This is very important since the price of materials will not remain the same and prices do not usually come down they tend to go up.  
The term "carport" is a bit misleading. A metal carport may be used to cover almost any vehicle, including bicycles, snowmobiles, boats, and tractors. Many boat owners are compelled to pack their garages or pay for costly off-site storage every month. A metal carport allows you to secure your boat at home versus storing it at a lake or marina.
Different Possible Uses For Carports:
Metal Carport as a Boat Cover:  A metal carport can be used to protect almost any vehicle, including boats.
Metal Carport as a Covered Picnic Area:  Many families build a beautiful covered patio (carport) in their backyard to enjoy the cool breeze during a summer barbecue.
Metal Carport as a Pet or Livestock Shelter: Metal carports are frequently used to house livestock such as cattle and horses in addition to protecting your dog from harsh weather.
Metal Carport as an Outdoor Kitchen: An outdoor kitchen allows you to cook outside any time of the year. It is also fun for family gatherings.
Metal Carport for Outdoor Events: With the proper permits, you can use your event space for ticketed concerts and weddings.  
Metal Carport as a Man Cave: Watch the game with enough space to invite friends and family.   You can also add some arcade games. 
Metal Carport as a Cabin: A guesthouse or an in-law suite in your backyard.
Conclusion
The right carport size for you is the one that lets you store all your vehicles and anything you want with them. While you may measure your vehicle sizes, most standard carport sizes can accommodate most cars and trucks. Therefore, you can need the number and type of vehicles you have along with the space you want to set aside as a patio.