There are several different types of metal buildings on the market. How you plan to use your facility will determine which structure will meet your needs. Carports, garages, and barns have specific differences that may influence which metal structure you decide to invest in.
Carports have a partially covered structure that works well for keeping your vehicles out of the rain. Garages are fully enclosed, which gives extra protection for items that you want to store away from the house. Barns tend to be larger than garages and carports; they're similar to garages but can also hold livestock, farm equipment, and vehicles.
Not only do metal buildings have distinct characteristics from each other and possess aspects different from traditional garages and pole barns. 
The Differences in Metal Buildings
Before purchasing a metal building, you'll want to know how you're going to be using the new space.
Ask yourself the following:
Will you be using the space to keep your vehicle out of the rain?
Are you planning to use the space for extra storage beside your vehicle?
Will there be livestock or cattle?
Do you have large equipment to store securely?
What is your budget?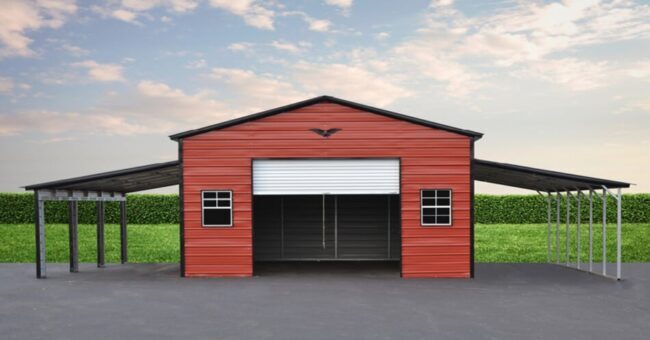 The following chart details the characteristics and average prices of metal carports, garages, and barns:
| | | |
| --- | --- | --- |
| Type of Structure | Characteristics | Average Price |
| Carports | Partially covered steel structures can be attached to the home Include, including beams or posts and a roof. A large variety of sizes and roof types best for keeping vehicles out of inclement weather | Up to $8,000 |
| Garages | A fully covered structure can either be attached or detached from the home include roof, sidewalls, back wall, and front wall with a door variety of sizes and roof types lower ceiling best for vehicles and as an extra storage space  | Up to $18,000 |
| Barns | Separate from the house fully enclosed structure includes roof, sidewalls, back wall, and front wall with a door higher ceiling best for livestock, farm equipment, and as extra storage | Up to $20,000 |
Carports, garages, and barns on the current market come in most shapes, sizes, colors, and with a plethora of add-ons available. When choosing which structure fits your needs, it helps to think about what you'll use the facility for in the future. 
For example, you currently have a one-vehicle household and want to get a single-vehicle carport. But, in the next few years, you want to get a second vehicle and will be looking to add extra storage to your home. In that case, investing in a two-car garage may meet your needs better than a one-car carport.
On the other hand, if you only need space for one car to keep from harsh weather conditions, a carport might be the perfect solution.
Custom Metal Carports vs. Traditional Wood Garages
A big misconception with metal carports would be that you have less variety to choose from. However, you can now find metal that looks like wood but has the advantages of being metal.
Some advantages of a metal carport include: 
Less maintenance (however, untreated metal is susceptible to water damage)
Variety of sizes, colors, and roof shapes
Lower insurance premiums due to a lower risk category
Lower material cost
Durability
Smooth installation process
Some advantages (and disadvantages) of a wooden carport include:
A variety of design options that can match the home's exterior
Different types of wood to choose from (i.e., mahogany, oak, hemlock)
Higher insurance premiums due to combustible material
Tends to be more expensive than metal
Susceptible to fire and water damage
Installation requires more laborers because wood is heavier than metal
Is There a Difference Between Pole Barns and Metal Barns?
Pole barns originally received the name because builders would use poles to support the beams holding up the roof. While pole barns do have metal panels, the frame is all wood. 
Here are some of the pros and cons of pole barns and metal barns:
| | |
| --- | --- |
| Pole Barn | Metal Barn |
| Pros Wooden posts a mixture of wooden and tin wall panels are nailed or screwed into the posts inexpensive Add-ons include steel frame and insulation ConsPoles can shift and decay over time requires regular maintenance challenges with building codes because pole barns are not considered permanent structures due to their shifting foundation extensive insurance because of the higher risk category Combustible material | ProsSteel columns anchored into a concrete foundation permanent structure durable weather-resistant fire resistant low level of maintenance required lower insurance premiums cheaper than traditional construction on higher initial costs possible water damage on untreated metal |
In Short
You won't run out of options when looking through that vast assortment of metal buildings available. When choosing between metal carports, garages, and barns, make sure you remember their differences in construction and uses.
Metal carports are not fully enclosed and include posts and a roof. Metal garages are fully closed with sidewalls, a back wall, a roof, and a front wall with a door. Metal barns tend to be larger than both carports and garages and are usually a separate structure from the home.